The Top 8 Great Looking Cars in 24 Hours Le Mans
If you have been following the 24 Hours Le Mans, you will be able to notice some of the fantastic cars that have ever joined with the riots. Without further ado, here are the cars that will make your jaw dropped.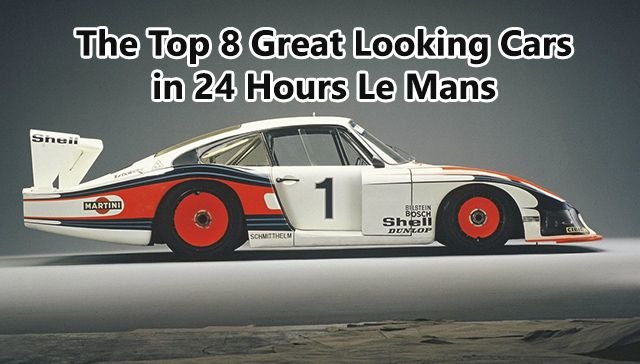 Porsche 935/78 'Moby Dick'
Launched in 78, folks are fond of its long-tailed 935 which gives such outrageous look at the vehicle. Some folks described this car as a rule bender. Rolf Stommelen and Manfred Schurti were the ones who drove this at Le Mans.
1938 Alfa Romeo 8C 2900B Le Mans Coupe
It is one of the most lovable classics. It is a memento for Le Mans fans who watched the event prior to the Second World War. It has such a stunning and magnificent look. People believed that this car should have won the 1938 Le Mans Event.
Mazda 787B
It was significant in 1991 when Patrick Dempsey drove it. Many experts argue whether the mazda 787B was the best or not but it is indeed one of the coolest vehicles at that time.
Ford GT40
Ford GT40 has been featured on different mediums including the mags and video games. But the GT40 is not a standalone version. Some people prefer its development version, Mirage M1, the one which comes with a smoother cockpit. But the versions which won Le Mans were MkII and MkIV.
Toyota Motorsport Toyota GT-One
In the late 1990s, GT-One had drawn the attention of many racers. The GT has been a great way to entice all of the racers' fans. Toyota GT-One had captured many pairs of eyes because of the great design and robust performance.
Also Read: Rebellion-Williams Team Wins Virtual 24H Le Mans
Jaguar D-Type
D-Type is indeed one of the toppest cars in the 24H Le Mans event because there are a lot of stories behind it. Experts slated it as sportcar milestone because of its distinctive streamlined body, disc brakes, as well as semi-monocoque construction.
1988 Porsche 962
It was a prevalent model back in the 1980s. It looks amazing and classic. Many automotive lovers are still giving two thumbs up to this model nearly 30 years since its career came to an end. Although it is still arguable, many have agreed that long tailed cars are more tempting than the short-tailed ones.
Aston Martin DBR1/300
It is arguably the most iconic model from Aston Martin if we tie it with the 24 H Le Mans event. This successful model comes with the rear body works, plastic cover over the passenger seat, as well as rear wheel spats. Aston Martin lovers would kill to see this.